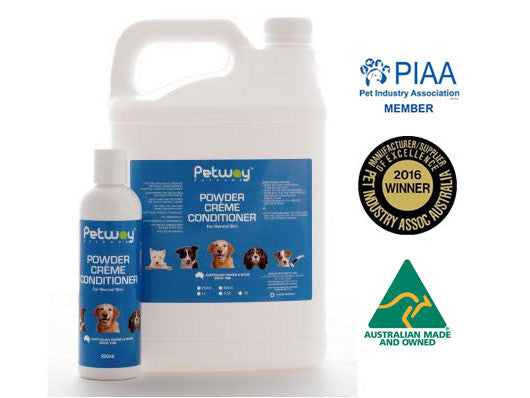 Powder Creme Conditioner
Petway Petcare
Regular price $15.20 Sale
Petway Petcare Powder Creme Conditioner a revitalizing and nourishing naturally based, general purpose cosmetic conditioner for normal skin types, that adds shine and restores the coats natural lustre, while invigorating the skin. It will soften the coat and make brushing easy. Easily rinsed out or can be blown out through the coat with dryer. Leaves a soft baby powder fragrance that matches our popular Petway Petcare Wicked White Whitening & Stain Removal Shampoo and our Powder Cologne Coat Gloss, however, it can be used in conjunction with all Petway Petcare Shampoos.
More Information:
For use on animals with normal skin
Naturally based
pH balanced
Soap Free
Bio-degradable
Free of phosphates, parabens and enzymes
Environmentally responsible
Bio-degradable
Not tested on animals
Directions for use:
Shake well before use;
Rinse the coat thoroughly after shampooing;
Apply to the coat as required;
Work into the coat with fingers and gently massage into the animals skin;
Leave on for up to 4 minutes;
Rinse out with fresh warm water;
OR
After working into the coat blow dry the conditioner out through the coat without rinsing;
Brush/comb coat.