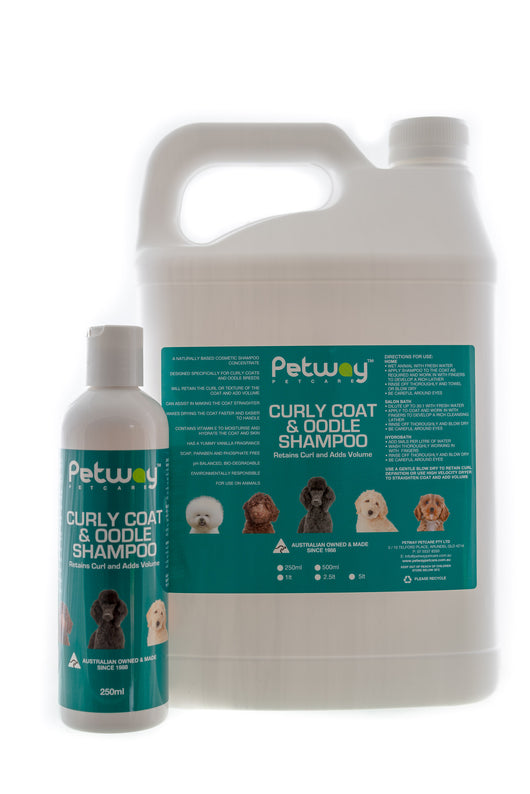 Curly Coat & Oodle Shampoo
Petway Petcare
Regular price $17.20 Sale
Petway Petcare's Curly Coat & Oodle Shampoo is a naturally based shampoo concentrate designed specifically for curly coats and oodle breeds. It will retain the curl or texture of the coat and add volume. Makes drying the coat faster and easier to handle and it can also assist in making the coat straighter when drying if high velocity dryer is used. Contains added benefit of Vitamin E to moisturise and hydrate the coat and skin. Leaves a yummy vanilla fragrance.
More Information:
For use on animals with curly coats
Concentrated formula
Formulated using pure deionised water
Naturally based
pH balanced
Soap Free
Free of phosphates, parabens and enzymes
Bio-degradable
Environmentally responsible
Not tested on animals
Directions for use:
Home
Shake well before use
Wet animal with fresh water
Apply shampoo to the coat, as required and work in thoroughly with fingers to develop a rich, cleansing lather
Rinse off thoroughly
Towel or blow dry
Brush/comb coat
Be careful around eyes
Salon Bath
Dilute up to 30:1 with fresh warm water
Apply to coat and work in with fingers to develop a rich lather
Rinse off thoroughly
Blow dry
Be careful around eyes
Hydro
Add 5mls per litre of water
Wash thoroughly working in with fingers
Rinse off with fresh warm water
Blow dry
Be careful around eyes
Use a gentle blow dry to retain curl definition or use a high velocity dryer to straighten coat and add volume.