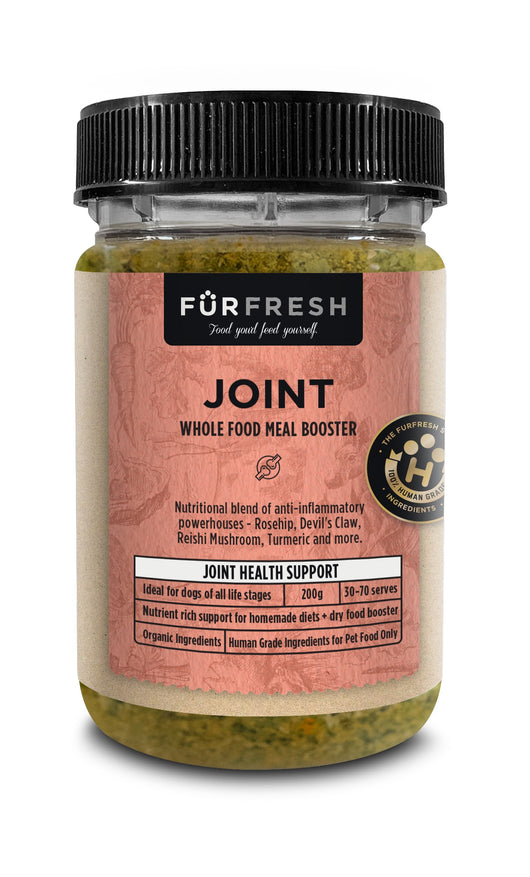 FurFresh Complete Meal Balancing Booster - JOINT
FurFresh
Regular price $29.00 Sale
Description
Our JOINT Whole Food Balancing Booster is designed as the perfect addition to our Freeze Dried Daily Dog food, as well as giving commercial and homemade dog food diets a natural joint supporting boost. It's a dog food supplement with a difference - using only natural, human grade ingredients, that are well researched to support improved joint health and those that assist with the easing of symptoms from arthritic conditions.
Ingredient overview:
Chia Seeds – packed full of Omega 3 essential fatty acids. protein, iron and calcium to support healthy joints, muscles and bones.
Turmeric – rich in curcumin which is a powerful anti-inflammatory and rich antioxidant
Devils Claw (Harpagophytum) - known to reduce stiffness, improve mobility and help to maintain healthy joints
Rosehip (rosa canina) - a well known joint supporting ingredient to reduce inflammation associated with joint issues
Sea Kelp - rich in calcium for healthy bones and its main component fucoidan may help to ease painful joints
Reishi Mushroom - is widely believed to delay the aging process and reduce aging symptoms, including joint issues.
Kale - high in anti-oxidants, leafy greens are great joint supporters
All 100% Human Grade and nothing artificial
Health Benefits:
Our whole food ingredients may assist with reducing pain and inflammation associated with arthritic conditions
Anti-inflammatory ingredients
Promotes joint mobility and reduces stiffness
Safe for long term use
Serving:

Dogs <5kg: 1-2g/day
Dogs 5-15kg: 3g/day
Dogs 15-25kg: 4g/day
Dogs 25kg+: 4-6g/day

Ideal addition to homemade diets or nutrient whole food boost for dry foods. If feeding on dry, mix with a little healthy oil. Store in a cool dark place. Always use a dry spoon.
Consult your vet if your dog has a known heart condition or is taking prescription medication or if pregnant or lactating.
100% human grade Ingredients (organic): Turmeric, Chia Seeds, Devils Claw, Rosehip Powder, Sea Kelp, Reishi Mushroom, Kale Powder