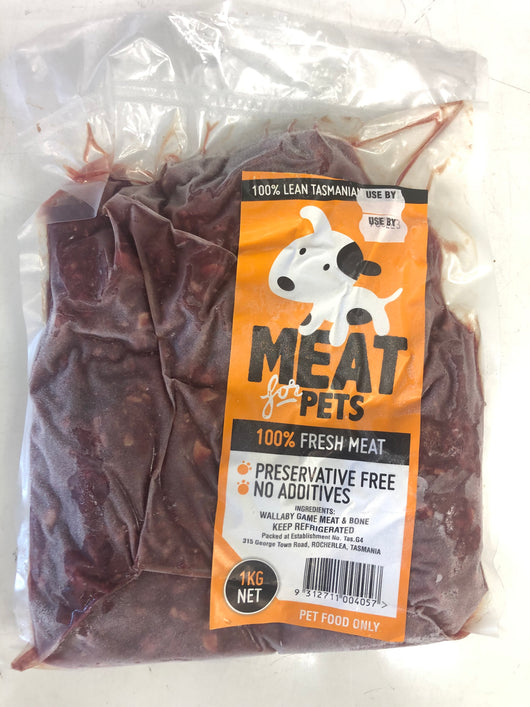 Wallaby Meat with Ground Bones - 1kg
Meat For Pets
Regular price $23.00 Sale
Wallaby is never farmed. It is sourced directly from Tasmanian Grasslands free from antibiotics, chemicals or human intervention. It really is good for your pets and good for the environment. It's a great source of protein, offering many nutritional benefits that include:
Building lean muscle

Reducing muscle loss

Helping your pets maintain a healthy weight 


A favourite with Dogs that are prone to allergies.
Ingredients
Tasmanian wallaby mince with ground bones, no additives, no preservatives
Nutritional Information per 100g
 
 
Energy (kJ)
410
Fat
1.0 g
Protein
22 g
Carbohydrates
1.0 g




Feeding guide:
2-5% of dog's weight per day.
- Mature & Sedentary dogs 2-3%
- Young and active dogs 3-5%
Cats :  4% of Cat's weight per day
Add FurFresh Meal Balancing Booster to complete and balance the meal
Elimination Diet for dogs with food allergies and sensitivities
Feed wallaby meat for 6-8 weeks. Do not feed any other food or treats during this period and monitor pet's condition for improvement. 
For a limited ingredient diet, a single novel carbohydrate such as Tapioca or Pumpkin can be added to the meat in the the ratio 70% meat to 30% Carbohydrate. 
As there is ground bone in the wallaby product, it is advisable to not to cook  the meat.